Welcome MDE Bilingual Seals Assessment Administrators!
(This landing page contains information for the 2022-23 school year.)
We are excited to partner with the Minnesota Department of Education to deliver the Bilingual Seals Assessments. This webpage is dedicated to providing district contacts with everything they need to know regarding the Billingual Seals Assessments.
Training Video for 2022-23 School Year
MDE + Extempore Assessment Request Form
The Test of Assurance Security Form
Student Handbooks & Administrator/Proctor Guidelines
Practice for Bilingual Seals Assessment
---
Available Languages
For the 2022/2023 school year, Extempore & MDE will be offering assessments for the languages listed below.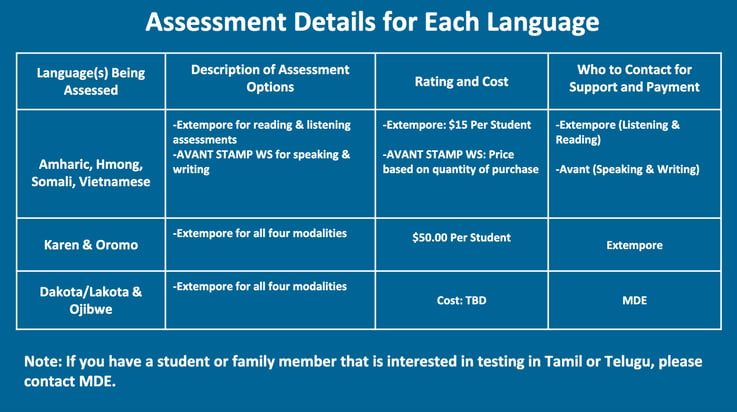 ---
MDE & Extempore will not offer any training webinars this year. Please watch the training video below and also view the training slides to get all of the information you need for your test. If you have questions after viewing these documents, feel free to contact the Extempore support team.
Please watch The Training Video Below
---
Need A Seals Test For Your School/District?
Step 1:

Sign the Assurance of Test Security Form
Please make sure to sign the Test of Assurance Security Form once you request a test, Extempore will not provide any test information until the form has been signed.
Step 2:

Fill the below request form
Please submit requests a minimum of one week in advance of when you plan to administer the test(s).
---
---
---
What is Extempore?
Extempore is an online platform designed to support practice and assessment in any subject, at all levels of proficiency, in a way that is convenient for the teacher and the student. Creating more reading, listening, writing, and speaking opportunities, to help reach the goal for your students to communicate effectively in a diverse society.
---
Rather we reach out to you? Let us know how we can help!